About us
Our story...
...begins on a sunny winter day in 2013 at Kitty's kitchen table. Our founders and True Chocolate Lovers Kitty & Thomas wanted to create a chocolate bar that tastes so good that they would never have to buy any other chocolate brand ever again. To achieve this, the two of them went on a force exploration among dozens of Chocolate Lovers around the Netherlands to figure out how, when, where and with whom people enjoy their chocolate.
During their quest, they discovered that lots of the Chocolate Lovers were sharing their chocolate bars eventhough they secretly didn't want to. They actually wanted to enjoy their chocolate all by themselves, but did not always have the guts to admit that. Kitty & Thomas found out that people find it hard to choose for themselves and say: "Hey, hands off my chocolate, this one is too delicious to share so I am going to enjoy it all by myself." So, we decided to say it for you. And at that very (and sunny) moment, Hands Off My Chocolate was born.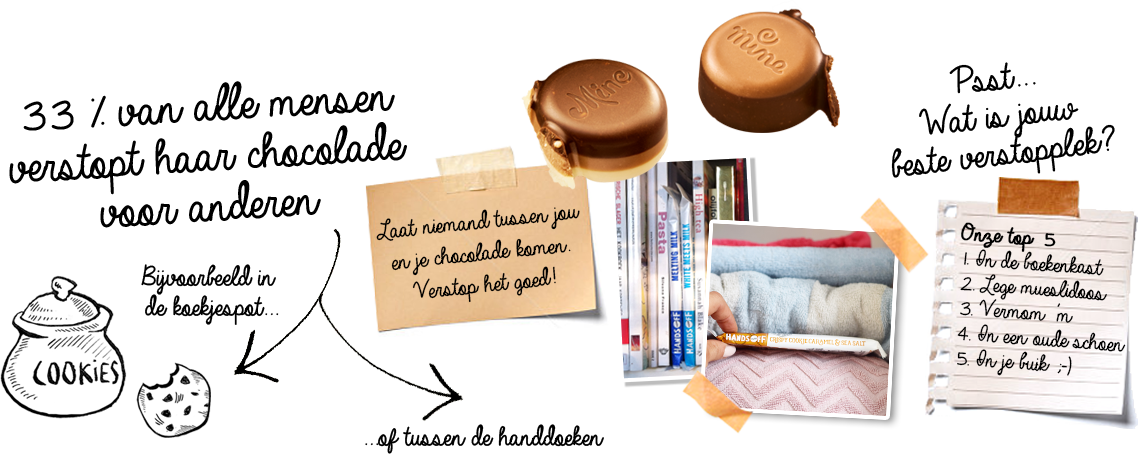 We believe...
… everyone needs more of those little moments of joy, just for themselves. So, we created the best chocolate bar in the world for you. A chocolate bar that is too delicious to share with anyone else but yourself. The bar consists of 14 chocolate rounds that all have your name written on it: 'mine!'. Oh, and not to forget, these little rounds fit your mouth perfectly and are super easy to break. We do everything to make your moment the best moment possible. 
We make...
… the best, fair, Belgian quality chocolate in the world. When we started our business, we melted over 800 chocolate bars and tested them against our chocolate to figure out which one people like the most. Simply because we wanted to make sure our chocolate is the most delicious one you can find in the stores. 
All of our flavors were ranked most tasteful so our mission has succeeded… For a while! Because our journey continues. We work hard every day to bring you more and more of those delicious chocolate products to make your little moments of joy even more joyful. And yes, we do eat chocolate daily while doing that.